It all starts with YOU!
How many times have we heard this statement over and over again! (insert eye roll here) I am constantly, and I mean constantly repeating this! Over and over again , when I am in a situation that I am simply unhappy with I begin to soul search and then literally surround myself with mantras, memes, and self help books that I miraculously think will change my life the minute I am done reading them. To my disappointment, I roll my eyes and then see that, I, in fact am, in the same situation that I was in before. So annoying!
So what is it that gets us going? What will put an end to making excuses and finally get us to do that one thing that is always haunting us? Losing weight, ending that shitty relationship, quitting the shit job, making more money, or moving out of the town that is literally covered by a dark cloud.  What will it take?
Seriously, I figured it out! Well for myself at least. I came to realize that it's only until I become truly sick and tired of something, that I will actually take the actions to make my life better.
For example, for years I worked a pharmacy and I hated it, so I finally got sick and tired of it and went back to school to do cosmetology. I changed that. I got done with school and worked at several salons that I tried so ever with all my might to change their vision for a better salon environment and failed completely. I had my own vision and I couldn't change their minds, finally got sick of that and quit. I went on to open my own studio salon to make it my very own. I was in two crappy relationships that would only take, take, and take and even though those took a chunk of my younger years, I still walked out. I was done and tired of wasting my energy on two fools that didn't realize I was a BOSS BITCH!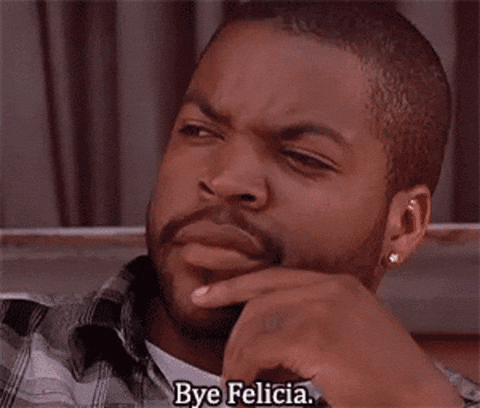 See I took the initiative to CHANGE all those things in my life because I WAS SICK OF THEM! I had to change and simply being tired of those things MADE ME CHANGE! 
I believe that it isn't until our mind, body, and souls can no longer take any of the BS, it is then that we decide to change. The sickness and the disgust of doing something we utterly hate over and over again will give us the impulse to snap the F**K out of it and move on.
BYE FELICIA! ON to the NEXT! NEW BEGINNINGS! NEW ME!
Some situations take longer than others, and we tolerate the crap out of things because we truly believe that we can change others but WE CAN'T! Here's what I live by: You can't change others but you can change yourself. 
So seriously it all starts with YOU! If you're in a situation, right now that you really detest, your bucket isn't full of enough bullshit yet to be able to change. It is only until the bucket is full and tips over that you're DONE! Once it's empty, then you can choose to fill it again with either more BS or with something new. Something that will get you closer to that GOOD LIFE!
xoxo-Gabi
Please reload